Register your company or team at Lunch.be
How does it work?
1

Choose your lunch supplier
2

Order your
lunch
3

Paid in a swipe
4

Enjoy your lunch
Feel at ease
No more stress to order your lunch in time. No more paper and cash handling at reception or voluntary administrator
Order your takeaway lunch fast – no more waiting queue
Payment
Top up your lunch credit in your own Lunch.be account, and pay per order for delivery in team or for takeaway at your preferred lunch supplier. This is the most economical method for your lunch supplier to be able to deliver a consistent high quality to you.
Alternatively you pay per order with Payconiq or with your bank account card. This is a more expensive payment method.
Save time
The fastest way to order and pay for your lunch. Save your time for enjoying lunch with your colleagues or take a walk in the neighbourhood
Invoicing
Would you like to order meeting formulas and catering for your company's meetings and events? Place your order at one of the partners of Lunch.be which will be invoiced to your company by the chosen supplier. Fill in your information and we will introduce you to the right supplier.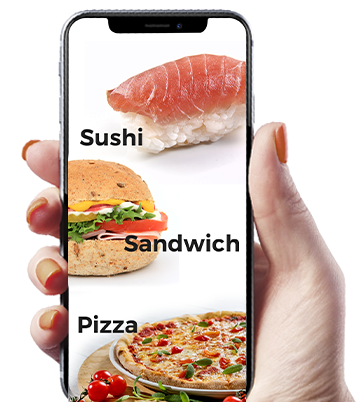 The best local sandwich bars, premium food shops, restaurants and catering specialists
Lunch.be only works with lunch suppliers delivering quality and service. The sandwich bars, premium food shops, restaurants and catering specialist are delivering their products and services with experience of many years and food safety procedures to deliver you a consistent quality and especially delicious tasting lunches and catering.
Sandwich bar? Food shop? Restaurant? Catering specialist? Partner with us!
Lunch.be offers the perfect solution for lunch suppliers and catering specialist to manage all aspects of the ordering and payment processes. Individual orders of customers are bundled in groups to streamline the operational delivery process. The label printer and integration of POS system and invoicing software results in the optimal working environment. No more headaches, save valuable operational and administrative time.
"Orders via telephone or sms are not of the current time anymore. Soon also the on-site orders will be placed online resulting in more valuable time for the customer. Placing the orders and payments via Lunch.be gives us much more time to focus on the core: delivering top lunches for our customers!"